Austria and Switzerland
Austria and Switzerland
The island of Ireland welcomed 126,000 visitors from Switzerland and the €150/£130 million spent during their time here reflects their status as one of the highest yielding markets per head. Swiss visitor numbers have increased by +46% since 2014. In 2019, there were 120,000 Swiss visitors to the Republic of Ireland; and 21,000 Swiss visitors to Northern Ireland.
Reflecting the high value of Swiss visitors TI opened an office in Zurich in January 2022 and appointed a local market manager. This presence has enabled an expansion of activity and an extension of our target audience from the German speaking regions into the French speaking markets around Geneva and Lausanne.
We welcomed 81,000 visitors from Austria to the island of Ireland (+9% on 2018). The spend of €71/£62 million is a strong return on investment in a market where our budget focuses on Publicity and travel trade partnerships and does not stretch to consumer advertising. In 2019, there were 77,000 Austrian visitors to the Republic of Ireland (+13% on 2018); and 11,000 Austrian visitors to Northern Ireland (+27% on 2018).
Air Access

Current connections from Switzerland include direct flights with SWISS (17x per week) and Aer Lingus (9x) from Zurich to Dublin. Both airlines also fly from Geneva to Dublin (LX 2x and EI 9x). Edelweiss operates a twice weekly seasonal flight (Apr-Oct) from Zurich to Cork. SWISS airlines offers a winter flight from Geneva to Cork as well. In addition Easyjet flies from Geneva to Belfast (2x) as well. Ryanair has 4 weekly flights from Basel to Dublin.
There are currently direct flights between Vienna and Dublin with Aer Lingus (4x weekly) and Ryanair (daily). These flights are expected to continue and possibly increase as of the summer flight plan at the end of March 2023. In the winter there are additional flights with Ryanair from to Salzburg (1x weekly) and Klagenfurt (2 x weekly) to Dublin. Due to the close proximity of other major airports to Austrian cities and regions, many Austrians fly from Munich, Zurich or Venice airports. Or they depart from their local regional airport (such as Graz, Innsbruck and Salzburg) and connect with flights to Ireland from Frankfurt.
How to work in the Swiss and Austrian market
Switzerland is a very traditional market with only a handful of Ireland Tour Operators / specialists with a focus on offering individual trips but also groups. Direct contact and regular updates are important for the Swiss trade, mostly they work with DMCs and are loyal business partners.
Most Austrian tour operators who programme the island of Ireland deal with group travel, with only a small handful of operators offering FIT package tours. Most tend to work with incoming tour operators. Austrian tour operators tend to be an honest and loyal customer once a business relationship has started. The operators are mainly mid-sized companies and the personal contact with industry partners is very important to them.
Why should you target this market?

With over 126,000 visitors from Switzerland in 2019, this is a market with significant potential for tourism to Ireland. Tourism Ireland will continue to concentrate on digital, publicity and trade activities in 2023. The Swiss are enthusiastic travellers, even in 2020 they were willing to do so if borders were open. Visitors from Switzerland enjoy touring the entire island and activities such as walking, hiking, cruising and golf are of particular interest to them. Exploring culinary, culture and heritage attractions are also of high interest. Switzerland is considered a high spending market with a sense for quality and refined luxury.
With over 80,000 visitors from Austria in 2019, these markets have significant potential for tourism to Ireland. Tourism Ireland will continue to concentrate on publicity and trade activities in 2023. Austrians love to travel; it is one of the few activities that Austrians would be unwilling to foresake. Austrians are also a proportionately high-spending market compared to other Europeans. They are quality conscious and especially appreciate good food and drink (locally sourced is always popular with the Austrian holidaymaker). There is also now an increased awareness and interest in sustainability and climate-friendly travel.
Upcoming Activity
Please check the site on a regular basis, to find out what's on offer and how you can be involved throughout the year. You can also register for email alerts for the latest information and upcoming opportunities. If you have any questions, drop us a line – we're here to help.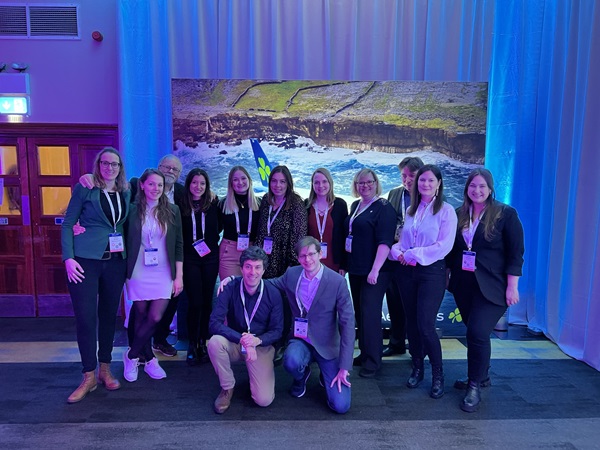 Key Swiss and Austrian tour operators at Meitheal 2023