Italy
About the Italian Market
In 2019, we welcomed 370,000 visitors from Italy to the island of Ireland, who spent €183/£159 million during their time here. Italy is the sixth-largest market for overseas tourism to the island of Ireland. There were 364,000 visitors from Italy to the Republic of Ireland in 2019, who spent almost €178 million. There were 20,000 visitors from Italy to Northern Ireland in 2019, who spent £5 million.
Why should you target this market?
The culturally curious Italian visitors have put Ireland close to the top of their consideration set for international travel. Italian visitors are more likely to be holiday makers, to stay longer and to spend more than visitors from many other markets. In 2019, Italian visitors contributed est. €183M to the economy across the island of Ireland, and they stayed an average of 9 nights. Well over half (61%) of all our Italian visitors came to Ireland for a holiday. Often late bookers, Italians value quality and are prepared to spend well where they see value for their money. While keen to see as much of the island of Ireland as possible, some Italians are reluctant to hire a car so always include information on public transport options to make it easy for them to reach your location. Direct access from Italy to Ireland has been fully restored to 2019 levels and good regional access means a good spread of Italian visitors throughout the island.
How to work with this market
A recent review of the Italian market by Tourism Ireland confirms the Italian Culturally Curious as the segment which offers the most potential for the island of Ireland. These holidaymakers are motivated by Ireland's stunning scenery and by our authentic culture. Getting to meet local people and understand their lifestyle is a key part of the holiday for these Italian visitors. Good quality local food is an important theme which we use to engage Italians, alongside experiences of local culture, images of iconic landscapes and the authenticity of our live music tradition. We are also targeting luxury and golf visitors from Italy. You can find a handy strategy card with more insights and tips on how to reach Italian visitors here.
Ireland has a strong profile in the Italian market, we're in the top five on the wish list of places Italians most want to visit. Our press office works hard to secure excellent exposure for the island of Ireland as a holiday destination across Italian print, TV, radio and digital media (in 2022 this coverage reached 66 million with a total of 1071 articles published). We have a large digital footprint with visits to the Italian version of Ireland.com alongside our social community numbers over 450k fans and followers across Facebook, Twitter, Instagram and Pinterest and we work increasingly with key influencers in the market to help us reach new audiences.
Upcoming Activity
Please check the site on a regular basis, to find out what's on offer and how you can be involved throughout the year. You can also register for email alerts for the latest information and upcoming opportunities. If you have any questions, drop us a line – we're here to help.
Further information about Italy
Opens in new window
Italy Market Profile
PDF |593KB
Opens in new window
Italy Social Media Fact sheet
PDF |5.59MB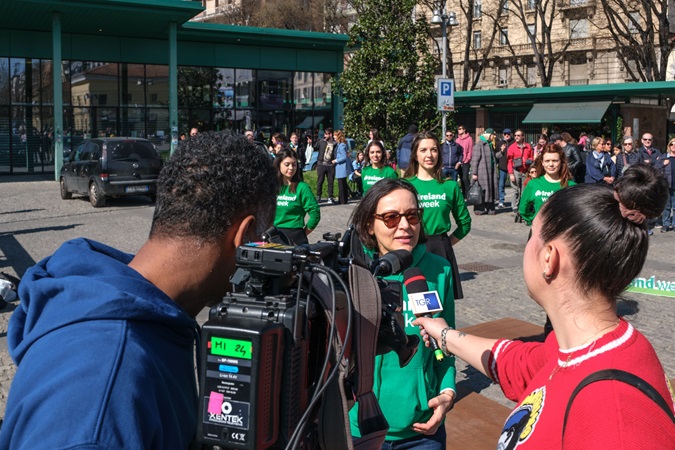 Ireland Week in Milan 2023 - Tourism Ireland recording a piece to camera about the island of Ireland for Italian media outlets
Related content