Belgium and the Netherlands
About the Belgian and Dutch Market
Over 380,000 visitors from the BeNe (Belgium and Netherlands)  region visited the Island of Ireland in 2019.  In 2019, there were over 34 million outbound trips by Dutch tourists, with 85% of those being to other European destinations. With stable economies, Dutch and Belgium consumers are willing and able travellers and have proven both resilient in times of tourism downturns and tend to recover quickly in the economic upswing.  

Air Access 
Ireland continues to enjoy good air connectivity with the Netherlands and Belgium, with good regional spread; KLM, Aer Lingus and Ryanair operate from Amsterdam airport to Dublin, Cork and Belfast. Pre-covid 19 Ryanair also had a daily flight from Eindhoven to Dublin. Aer Lingus and Ryanair have a service from Brussels to Dublin. Ryanair also operates flights between Charleroi (BE) and Dublin. Direct connectivity to several of our regional airports, Cork and Belfast (city via KLM & International via easyJet) allows our Dutch visitors the option of arriving directly into the Wild Atlantic Way as well as Dublin and Belfast.  
Why should you target this market?  
The typical visitor from the Netherlands and Belgium is well-educated,
progressively minded, a sophisticated traveller and are happy to speak in English. They are digitally savvy and know how to shop online for the best deals. 
They are mainly 45+ and likely to travel as a couple without children or with other adult friends.  
BeNe travellers have a higher-than-average tendency to travel in the shoulder or off-season period and over one in three BeNe holidaymakers are repeat visitors.
Exploring history and culture along with walking and hiking and being in the landscape, are the most popular activities for both Dutch and Belgian visitors. Enjoying excellent gourmet food is particularly of interest to our Belgian visitors whereas Dutch seek authentic experiences with people and love going 'off the beaten track' 
With affordable and easy access options, Ireland can be a short - or longer-holiday option for this group who, especially in the Dutch market, take multiple holidays during the year. 
Visitors from the Netherlands stay on average between 4-7 nights. Dutch and Belgian's favour B&Bs and hotels and love exploring the island by car and take in as many regions as possible, particularly the south West and the West, as well as Dublin.  
How to work with the Belgian and Dutch market  
Tourism Ireland in BeNe continues to offer a range of industry opportunities to industry who wish to access the Dutch or Belgian market. Our Trade Team can put you in front of key Dutch and Belgian buyers and our Publicity Team can ensure that key Dutch and Belgian media know what you have to offer the Dutch or Belgian holidaymaker. We will continue to engage with potential visitors through the global FYHWI campaign and activities on digital TV, display, social and other platforms. Your offers will form a central part of these campaigns. We share inspiring content daily with over 232k fans and followers on our social media and our ezine is sent weekly to over 51k active contacts.

Upcoming Activity 
Tourism Ireland's BeNe team has a programme of activity planned for Q1 2023, aimed at the travel trade and media alike:
Northern Ireland Embrace A Giant Spirit campaign in Q1
Ongoing FYHWI campaign
Cork as the gateway to the Wild Atlantic Way and Ireland's Ancient East campaign 
Monthly Trade newsletters and bi-monthly Trade articles offering industry the opportunity to showcase their product to the BeNe Travel Trade 
Press trips and inspirational newsletters & press releases.
Further information about Belgium and the Netherlands
Opens in new window
The Netherlands Market Profile
PDF | 554KB
Opens in new window
Belgium and The Netherlands Social Media Factsheet
PDF | 1.9MB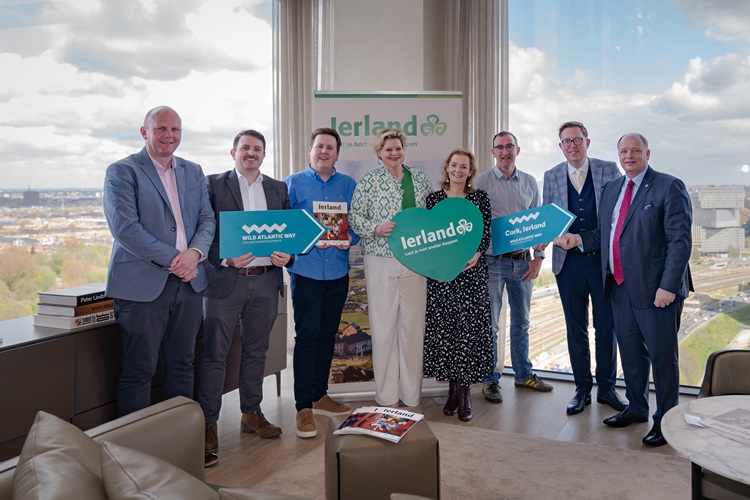 Wild Atlantic Way Roadshow in Amsterdam, April 2023
Get in touch