Canada
About the Canadian Market
In 2019, we welcomed 248,000 visitors from Canada to the island of Ireland (+2% on 2018), who spent €209/£182 million during their time here. Canada is the 10th largest market for overseas tourism to the island of Ireland. In 2019, there were 229,000 visitors from Canada to the Republic of Ireland (+2% on 2018), who spent almost €189 million. There were 68,000 visitors from Canada to Northern Ireland (+3% on 2018), who spent £18 million.
Why should you target this market?
In 2022 Canada will have stronger direct access than ever before – with direct connections from Toronto, Vancouver, Calgary, Montreal and Halifax. Canadians are ready to travel and are an excellent source market to drive immediate bookings. Canada is the 5th strongest market for the island of Ireland in terms of holidaymaker revenue, with Canadian holidaymakers tending to stay longer and spend more. Approximately 25% of all Canadian visitors visit Northern Ireland, making Canada the 9th largest source market to Northern Ireland. On average, Canadian holidaymakers stay on the island of Ireland for ten nights and typically spend €930 / £751 per trip. Canadians are highly likely to tour and to visit two or more regions on the island. They are also more likely to use a car during their trip than most other holidaymakers. Almost one-third of Canadians travel on escorted (organized) tours and they prefer to stay in hotels, but they also like guesthouses and B&B's. 38% of Canadians have a connection to the island and have the highest number of ancestral links after the US.
How to work with the Canadian market
Ireland has an abundance of experiences that appeal strongly to Canadian visitors – from world class ancient heritage and colourful contemporary history to the beautiful landscapes and density of experiences.
The Canadian holidaymaker craves a break from routine, and while they want to see the "must-visit" areas and attractions, they also want to learn and try new things while connecting with Ireland's ancient culture and heritage. With +4.5M Canadians claiming Irish heritage, there are also a lot of ancestral and cultural connections between the two countries, ready to be explored.
Social Campaigns
Please look out for opportunities to participate in Canada's consumer activities throughout the year. You can work with us by providing content for social media, e-zines and even collaborate on competitions or giveaways. We look forward to hearing from you.
Upcoming activity
Please check the site on a regular basis, to find out what's on offer and how you can be involved throughout the year. You can also register for email alerts for the latest information and upcoming opportunities. If you have any questions, drop us a line – we're here to help.
Further information about Canada
Opens in new window
Canada Social Media Factsheet 2022
PDF |1.86MB
Opens in new window
Canada Market Profile
PDF |1006KB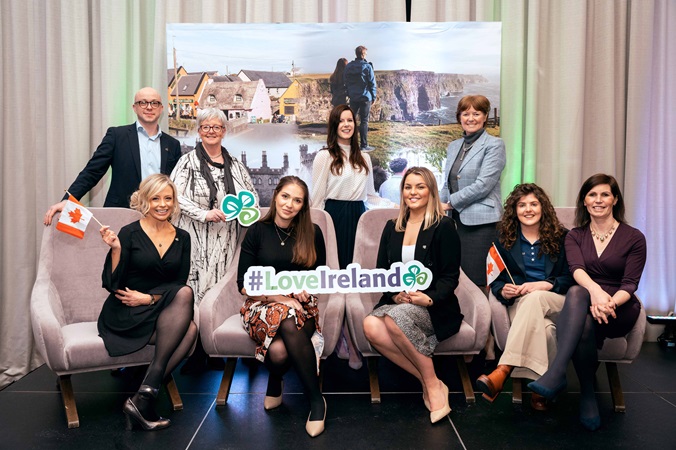 Canadian sales mission, February 2023
Get in touch