Information
We are looking for your very best offers from across the island of Ireland to support our 'Fill Your Heart with Ireland' campaign.
Offers will be published on Ireland.com as soon as approved, and can be submitted throughout the duration campaign, but must be available to book now.
We are seeking the very best offers that not only give holidaymakers compelling reasons to book, but offer great value for money, flexibility, ease of booking, or that unique touch of 'wow' that they can't wait to tell others about!
Great Offer Examples Include:
• Value for Money: Strong lead-ins and discounts (e.g. £/€ % off, 3 nights for the price of 2, children go free, complimentary bike hire / free walking tour / complimentary picnic etc.) Refundable or amendable options where possible.
• Added value / Combination Offers: e.g. bundle-up experiences with local partners, e.g. hotel + attraction, restaurant + activity provider *N.B. Must be bookable online as one combined offer.
• Wow Factors & USPs: Quirky, unusual, accommodations, experiences, or activities or highlighting extra indulgences such as food & drink offers, room upgrades, spa treatments etc
• Offers must be bookable online and should have at least 3 months validity
• All offers are subject to Tourism Ireland editorial control and must meet the criteria and specification to be approved. Tourism Ireland will have the final say on assets including images and copy.
• Offers submitted for Ireland.com may be used in other channels such as social media, publicity, paid media and consumer e-zines.
• Any images supplied to be used by Tourism Ireland must have usage rights for web and paid media.
• All campaign activity and timescales are subject to change and could be reviewed or withdrawn without notice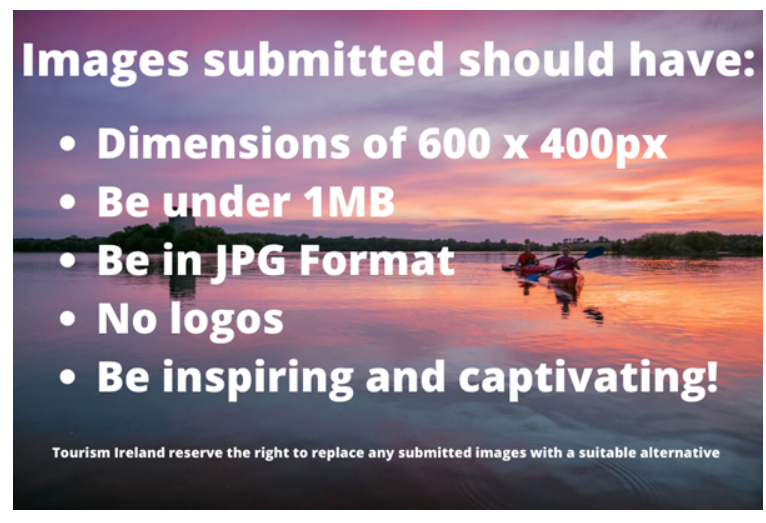 Register for this opportunity
Opportunity Type

B2C

Activity category

Partnership Programmes

Activity

Offers on Ireland.com

Destination programme

Island of Ireland

Sign up by

01/01/2024
For more info contact Natasha Johnston