Ireland is 'the business' for German business travel buyers
A group of German MICE – meetings, incentives, conferences and exhibitions – buyers is exploring Ireland this week.
The aim of the visit – by Tourism Ireland and Fáilte Ireland in conjunction with Wallace Travel Group – is to showcase the superb facilities and unique experiences on offer here for incentive travel and corporate meetings, inspiring the German buyers to recommend the island of Ireland to their clients.
The group is following an action-packed itinerary, which includes Carton House, the g Hotel, the Armada Hotel, Trump International Golf Links & Hotel Doonbeg, Glasson Lakehouse and Kilbeggan Distillery. They're also taking part in a food tour of Galway and will enjoying a special experience at the Cliffs of Moher involving axe throwing and cheese tasting!
David Boyce, Tourism Ireland's Head of Business Events, said: "Tourism Ireland was delighted to invite this group of influential German MICE buyers to visit Ireland. Seeing is believing, so this visit is a really good opportunity to showcase our superb tourism offering, our unique experiences and, of course, the warmth of our welcome - which all go to make Ireland a fantastic choice for incentive travel and corporate meetings. Business Events is an important, high yield sector and Tourism Ireland is undertaking a busy programme of activity throughout 2023 to grow business in this area."
'Meet in Ireland' is the official MICE (meetings, incentives, conferences and events) brand for the island of Ireland, comprising Tourism Ireland, Fáilte Ireland and Tourism Northern Ireland, who work in partnership to promote the island of Ireland as a leading Business Events destination.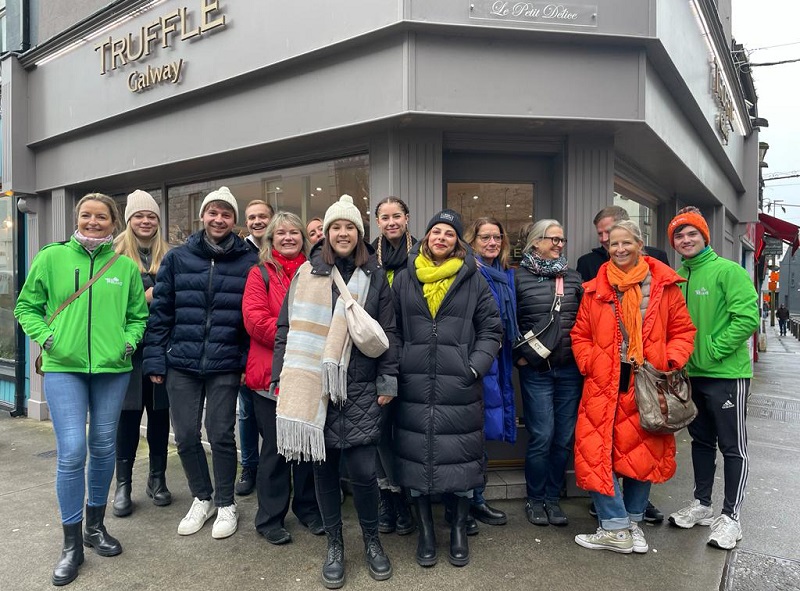 German MICE buyers pictured outside Truffle during a food tour of Galway city, with Orla Kraft, Tourism Ireland (left); and Matthew Smith, Fáilte Ireland (right).
Notes to Editors:
Tourism Ireland is the organisation responsible for promoting the island of Ireland overseas as a leading holiday destination.
In 2019, we welcomed 11.3 million overseas visitors to the island of Ireland, delivering revenue of over €5.9 billion.
Tourism Ireland's international website is www.ireland.com, with 33 market sites available in 30 different countries in 11 language versions around the world.